SAFE in Hunterdon is dedicated to offering safety, hope, supportive services, and advocacy to survivors of domestic violence and sexual assault in Hunterdon County. SAFE also provides educational programming to the community with focus on prevention.
We envision a community with the strength and knowledge to support all individuals in their journey to maintain physical and emotional safety.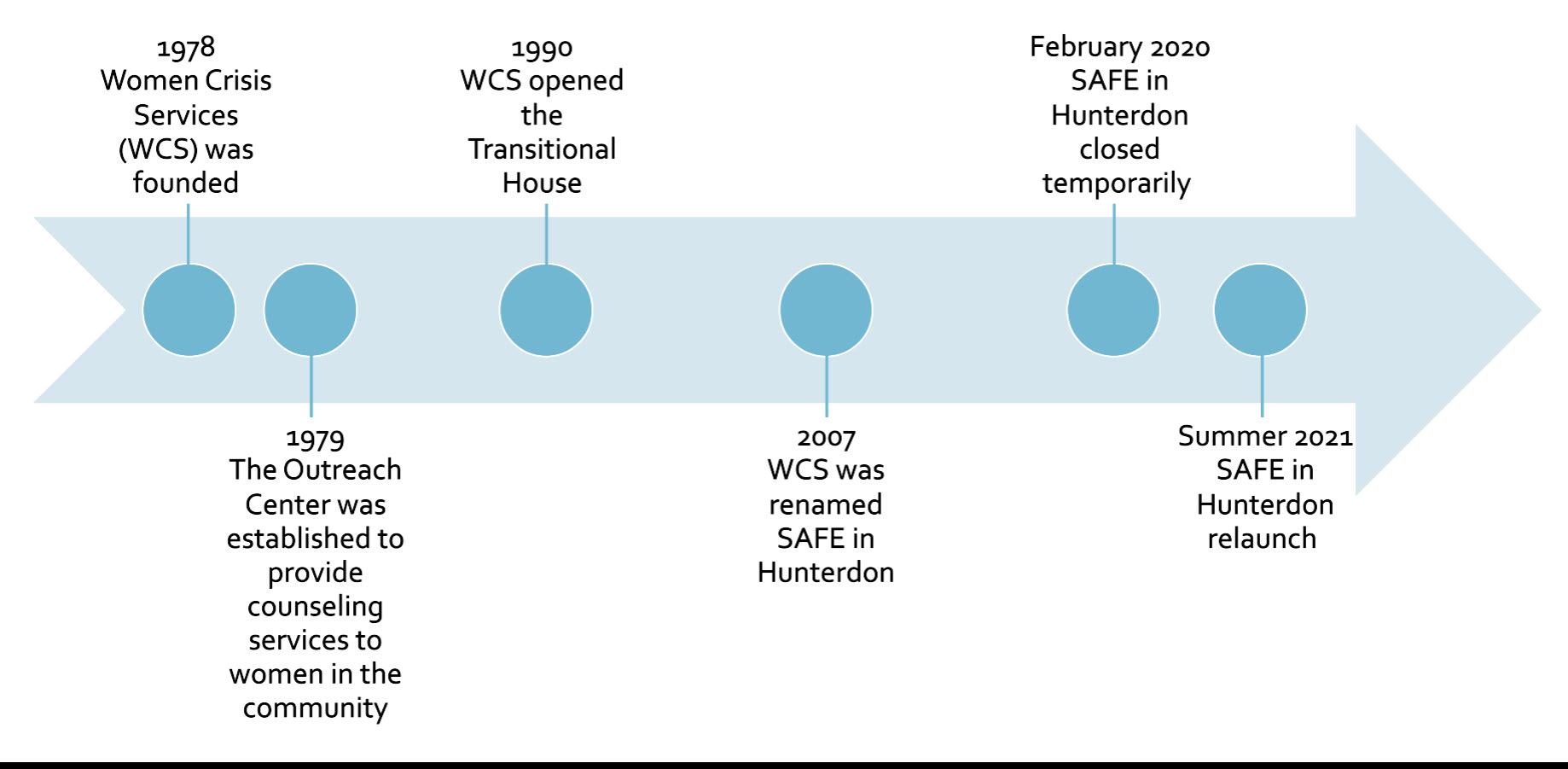 Dominic Prisco, Executive Director
Dominic brings 15+ years of professional experience to SAFE in Hunterdon with a background in Operations, Marketing, and Business Development. Dominic and his experienced and enthusiastic professional staff are here to meet the needs of domestic and sexual violence survivors and provide education, support, and resources to our Hunterdon community.
Safe in Hunterdon
Board of Trustees
Karen Widico, MSW, CPS is President of the Board of trustees and serves as Co-CEO of Prevention Resources, a collaborative partner of Safe in Hunterdon. Karen believes strongly that all individuals have the basic human right to lead a life free of violence and fear, and recognizes that Safe in Hunterdon provides the services and support to ensure this vision is a reality.


Antoinette "Toni" Rice, BA Human Resources, serves as the Director of Employee Benefits and Workforce Wellness for Hunterdon Healthcare. Toni enjoys being a very active volunteer in numerous Hunterdon County community organizations including her service as a Board member of SAFE in Hunterdon, Campaign Manager for the United Way, swim official for the YMCA, and church ministry leader for Girl Scouts.


Dave Campbell joined the SAFE Board following a career in Finance, primarily with Merck & Co. He joined the Board to help in the battle against domestic violence and sexual abuse in Hunterdon County as well as utilize his background in business to help SAFE build a strong financial base to enable the organization to provide it's critical services for years to come. Dave has a finance degree from the Univ. of Notre Dame and an MBA from the Wharton School at the Univ. of Pennsylvania.


Beverlee Ciccone, PhD is a licensed psychologist who practiced in New Hope PA for many years. She is on the faculty of the Hunterdon Family Medicine Residency Program in Flemington, NJ, where she helps teach residents who are training to be family physicians the biopsychosocial approach to patient care. Dr. Ciccone has worked with survivors of intimate partner violence and sexual abuse both in her private practice, with agencies and in her teaching of young physicians. She has been on the Board of Safe in Hunterdon since June 2020.


Lisa Reed is a retired DSG from the Hunterdon County Prosecutor's Office where she was responsible for overseeing the investigations of sexually and physically assaulted children and adults. Lisa was on the board of Safe in Hunterdon in 2010 and rejoined in 2018 because she believes in the work Safe in Hunterdon does for the community she lives in.


Kim Blanda holds dual degrees in business and nursing. As Director of Community Relations for Hunterdon Healthcare System (HHS) and the Coordinator for the Partnership for Health, she has strong ties with our community organizations and is committed to the health and wellness of our residents. In 2020, Ms. Blanda assisted with the rebuild of SAFE and serves as the liaison between SAFE and HHS. She also sits on our Finance Committee and is an Advisory Member of our Board. Kim resides in Hunterdon County with her husband and children.


Jim Robinson is a commercial real estate agent. He previously served in government and community relations for a telecommunications company. He served as the Chief of Staff to the Speaker of the House in New Jersey and as a confidential aid to a Freeholder Director. He was a longtime chairman of a municipal planning board and president of NJ Planning Officials, an affiliate of the NJ League of Municipalities. Jim has served on profit and non-profit boards, including two bank boards, a United Way board, the Drumthwacket Foundation which runs the Governor's Mansion in Princeton, the Hunterdon County Chamber of Commerce, a women's substance abuse facility, a guardianship board, and a substance abuse board that is now a collaborative partner of Safe in Hunterdon. He was selected by the Hunterdon County Prosecutor to be a founding member of the Hunterdon County Crime Stoppers.


The Hon. Peter Buchsbaum is a retired Superior Court judge. Between 2004 and 2013, he served as a family court and civil court judge in Hunterdon and Somerset Counties. Before that, he was in private practice and also was elected as Mayor of West Amwell Township. He has lived in West Amwell since 1974 and joined the SAFE board in early 2020. He chairs the Nominating/Board Development and Bylaws committees.


Laura Hernandez has been a Hunterdon County resident for over 25 years. Currently she works with Hunterdon families for the Norwescap Early Head Start Program. Formerly a client of SAFE in Hunterdon, Laura has been honored to join the the board in January 2021 and serve on the Program committee. Her passion for serving on the board is advocacy and SAFE's engagement with the community.


Cindy Barter, MD, MPHM, IBCLC, CTTS, FAAFP graduated from the University of Kansas Medical School and did her residency training at DeWitt Army Community Hospital, Ft. Belvoir, VA. Since coming to Hunterdon, she has taken on several roles that speak to her passion for taking care of the community and maternity care. She is Chair of the Partnership For Health, an organization that is a collaboration of over 70 different community organizations working to improve the health of the residents of Hunterdon County. She is the Co-Chair of the Latino Access Committee. She enjoys learning new languages, traveling and running with her dogs.


Rebecca Richards, Ed S. is a school psychologist at a public school in New Jersey. Across her tenure, she has supported students with disabilities within and outside the Hunterdon County area. She joined the Safe Board of Directors in 2019 and is currently the Secretary as well as heading the Program Committee.


Jeannie Colalillo, With the belief and hope that everyone should be safe in their own home, Jeannie Colalillo first became involved in Safe in Hunterdon in the late 1990's volunteering in a friend and fund raising capacity on and off until joining the board in 2018. Jeannie is Director of Community Relations at ShopRite of Hunterdon County, a local family business.


Bridget Hartnett, CPA is a certified public accountant and is the member in charge of the Nonprofit and Social Services Practice at Sobel & Co., LLC. Bridget has been working with nonprofit organizations since joining Sobel & Co. in 1997 and joined the SAFE board in 2020.


Rose Puelle, PhD has been a Raritan Twp resident since 1992. She has served on the Flemington-Raritan Board of Education and is in her 2nd term on the SAFE in Hunterdon Board. She has worked for the Hunterdon County Department of Health leading it's Public Health Preparedness efforts and currently runs the Population Health Program for Hunterdon Healthcare Partners.
Your donation of any size helps us to maintain our vital programs and reach more of your neighbors in need.